Testing Capacities Decreases as Deaths due to COVID Increase
Around 35% of registered COVID-19 deaths in Puerto Rico have happened during the month of August, totaling 131 deaths.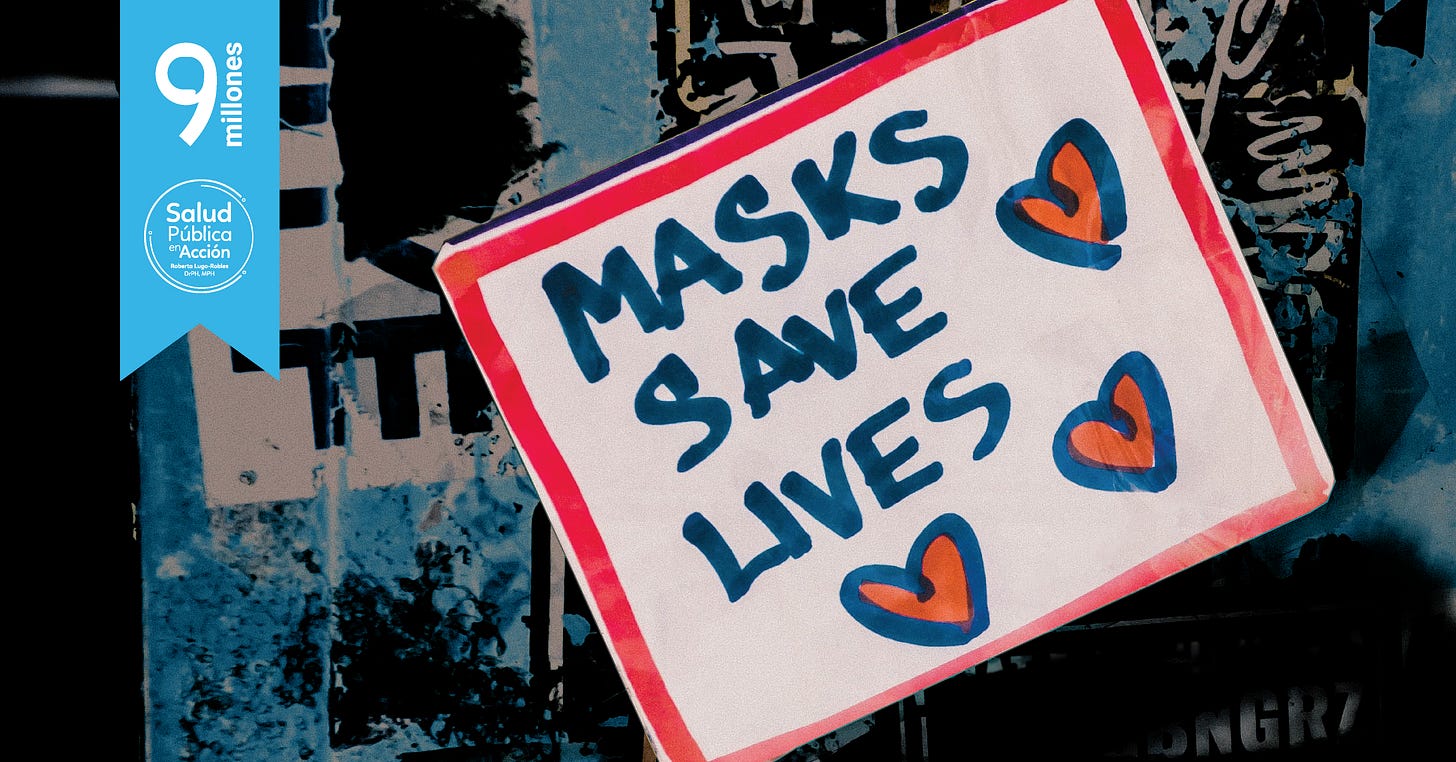 To provide reliable data regarding the COVID-19 virus in Puerto Rico, as well as an expert interpretation of them, 9 Millones established a partnership with the Public Health in Action project, which was started by epidemiologist Roberta Lugo Robles. This article is originally in Spanish and was translated by María Cardona.
The data provided on August 22 by the Puerto Rico Department of Health (PRDH), showed a total of 29,588 cases of COVID-19 in Puerto Rico. Out of those cases, 13,282 are confirmed cases (molecular testing) and 16,295 are probable cases or positive serological tests.
Since the date of this last report — August 14–2,552 additional confirmed cases and 1,897 additional probable cases have been identified.
"During the month of August, the tendency of 2,000 confirmed cases being reported every week has continued. The growth case fluctuates between 3% and 5%, which is why we continue seeing an active transmission of the virus within the community," said epidemiologist Roberta Lugo Robles.
This week three points stand out:
The trend of 2,000 confirmed cases being reported each week continues

53% of confirmed cases belong to people between the ages of 20 and 49.

There's a considerable rise in deaths, with around 35% of registered deaths happening during the month of August
COVID-19 in Puerto Rico
The distribution of confirmed cases by gender continues with a 50/50 split with a median age of 42 years. The group with the highest level of reported transmission is between the ages of 20 and 29 with 2,368 cases, followed by the group between 30 and 39 year-olds with 2,295 cases. Out of the 2,552 confirmed cases added last week, 51% belong to people between the ages of 20 and 49.
"Reported cases among children 10 years or younger increased 29%, going from 102 cases to 135 in just one week," said Lugo Robles.
In geographical terms, the San Juan metro area continues having the highest rate of confirmed cases with a total of 4,771 accounting for 37.3%, followed by Bayamón with 2,845 cases, equivalent to 22.3%, and the region of Caguas with 1,317 cases accounting for 10.3%.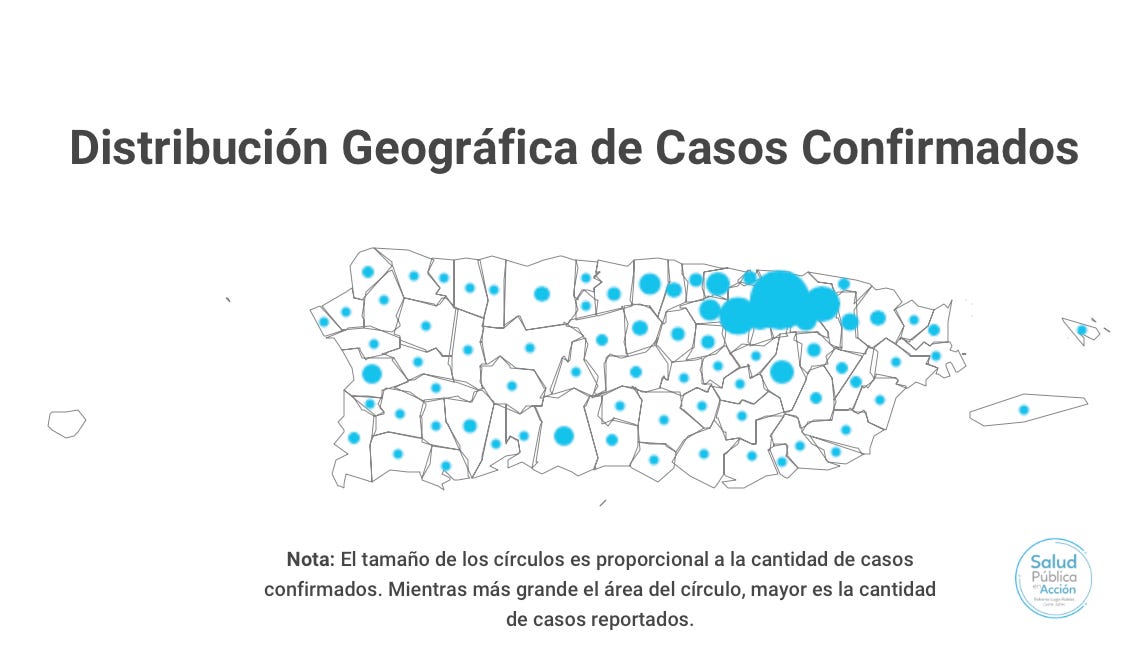 Geographic distribution of cases. Source: PRHD, August 21, 2020
By August 21, PRDH data showed a total of 401 hospitalizations, 67 patients in intensive care, and 41 patients on ventilators. During the last two weeks, the number of hospitalizations has fluctuated between 361 and 466 patients. This is slightly lower than the number of hospitalizations registered at the beginning of August, which was between 399 and 533 (data from August 1–7, 2020).
"Hospitalizations have decreased when compared to the numbers seen in early August. However, this decrease is possibly due to the fact that some hospitalized patients have passed away," said Lugo Robles.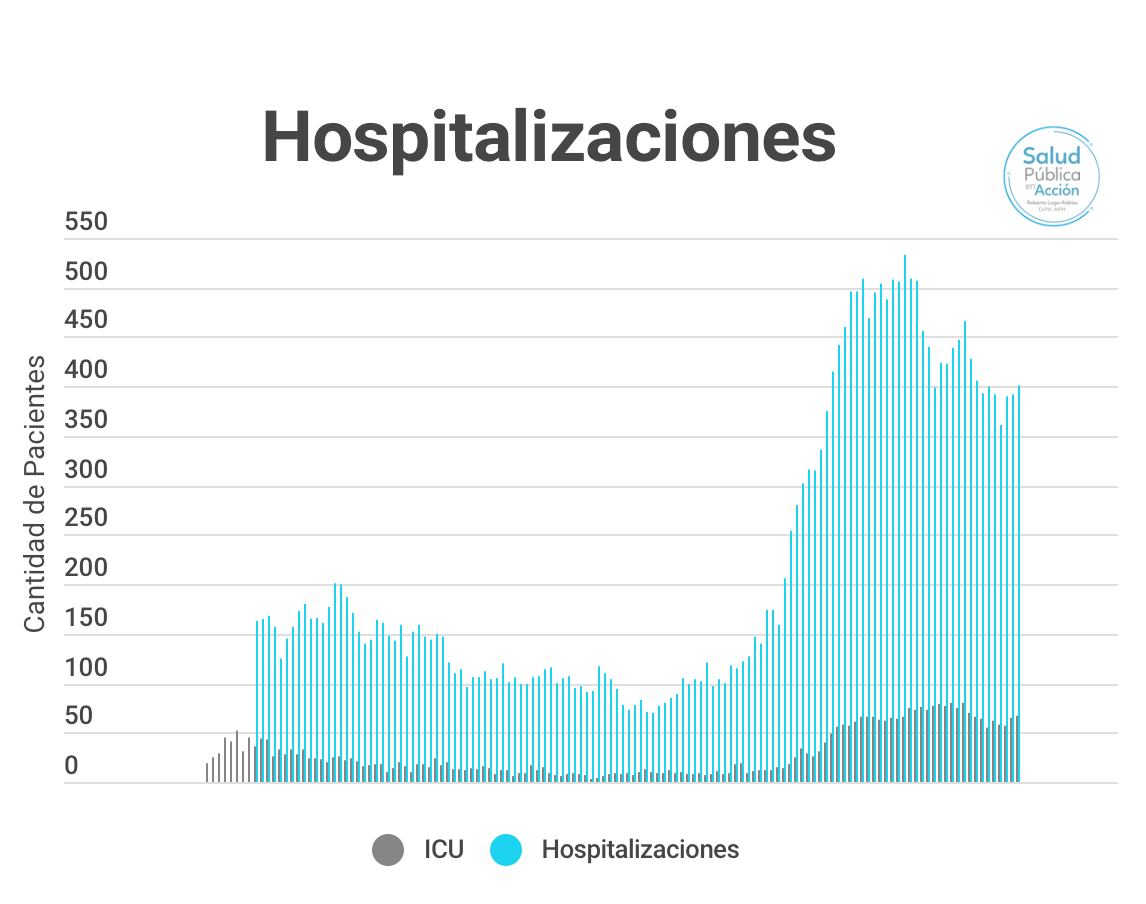 Hospitalizations. Source: Monitoreo de COVID-19 en Puerto Rico 
According to data provided by the Health Department's Secretary, Dr. Lorenzo González, close to 83% of people who have died due to COVID-19 were hospitalized.
"This translates to 8 out of every 10 COVID-19 deaths being patients who were hospitalized. This despite existing treatments and care provided by health professionals," added Lugo Robles.
Reported deaths due to complications of the virus add up to 381. Out of these, 246 deaths were confirmed through molecular testing and 135 were qualified as probable deaths. Probable deaths are deaths attributed to COVID-19 via a positive serological test or through clinical/epidemiological criteria.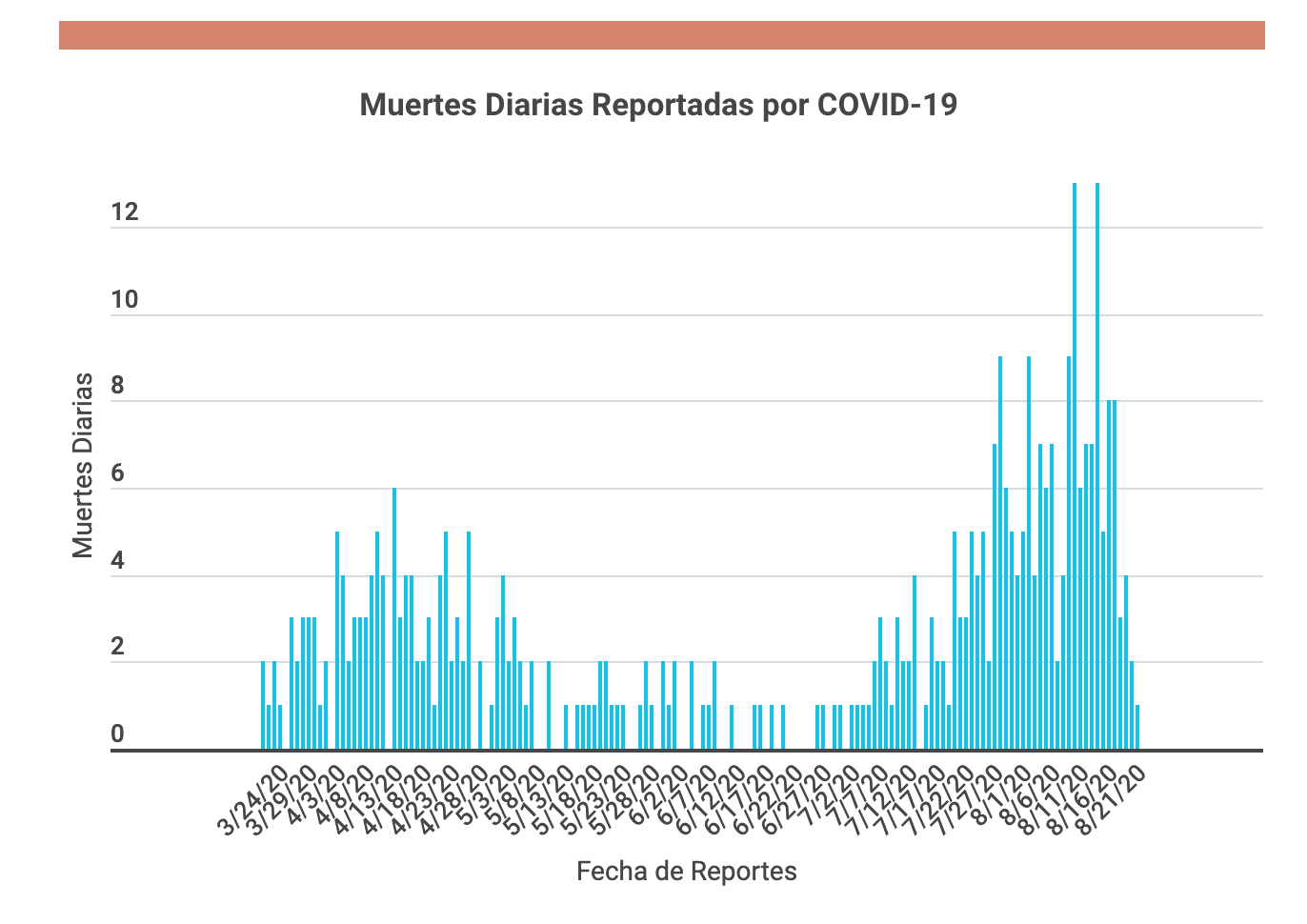 Daily Deaths. Source: Monitoreo de COVID-19 en Puerto Rico 
A total of 64 additional deaths have been registered since our last report. Deaths reflect a considerable increase, close to 35% of registered deaths having happened during the month of August, for a total of 131 deaths.
Increase in Active Transmission While Testing Capacity Decreases
According to the data from the past few weeks, we continue experiencing an active transmission in the community, with around 2,000 new confirmed cases each week. However, due to the weekly data delay, it is difficult to know the magnitude of the rise in cases.
In terms of positivity, Puerto Rico is between the 11th-14th percentile. This tendency is indicative of the fact that we are encountering limitations in testing capabilities.
During the month of July, Puerto Rico managed to run between 5,000–8,000 daily tests. On average, during the past two weeks, around 2,300 daily tests have been conducted. This indicates that a decrease in testing capacities is now reflected in the data.
"Taking into account testing capacities and prioritizing testing at the moment, the positivity indicator should not be used to estimate the incidence (of new cases) of COVID-19 on the island," said Lugo Robles.
The rate has maintained itself on a constant rise since July. However, the positivity rate is affected by various factors, as discussed in our past report.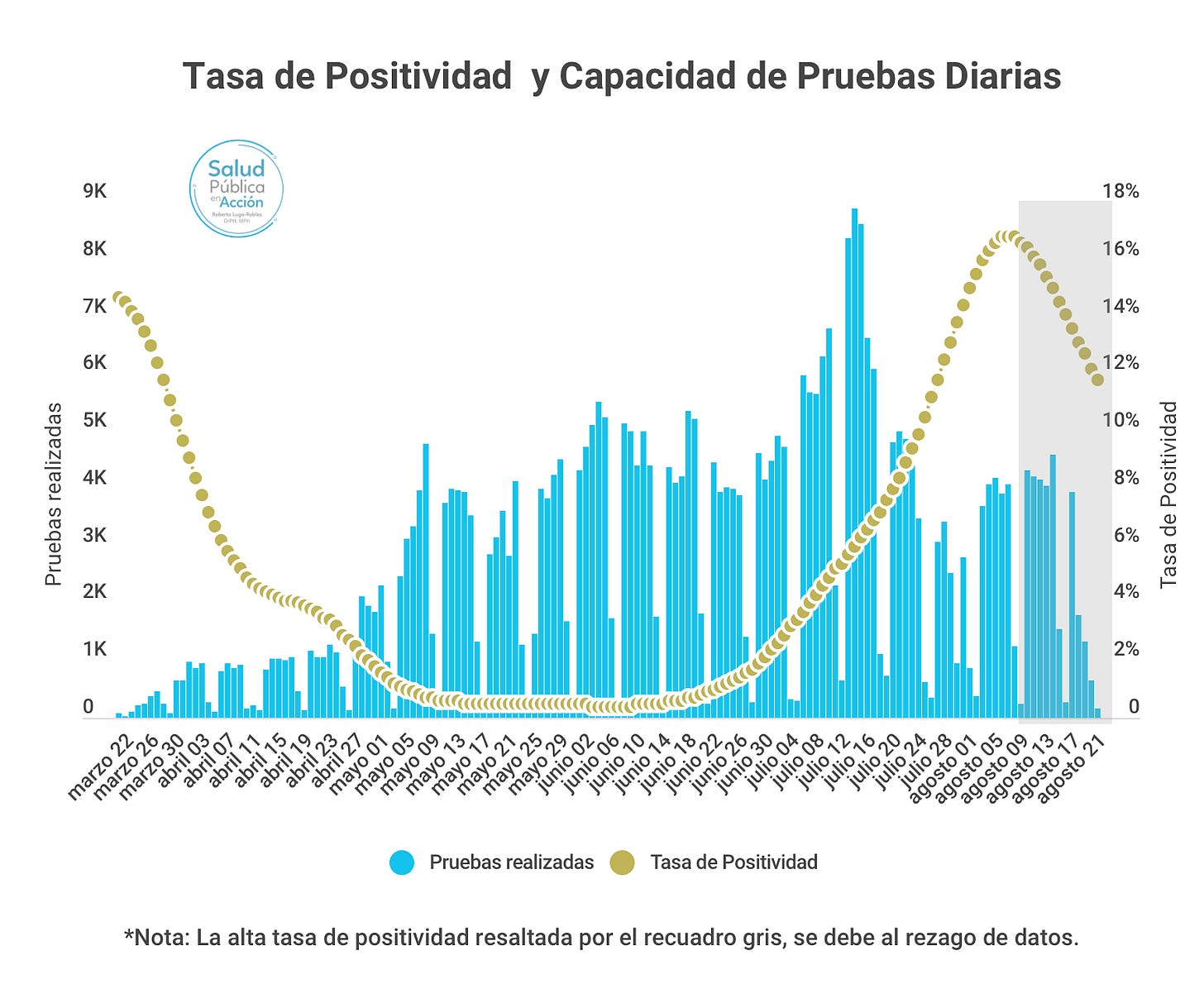 Blue= testing and yellow =positivity rate Source: Monitoreo de COVID-19 en Puerto Rico 
Current Panorama
Puerto Rico is still in the midst of the highest levels of pandemic activity. A rise in the following indicators has been observed: 1) the number of new daily cases, 2) positivity rate, 3) volume of hospitalizations, and 4) registering deaths. In the previous data report, we recommended moving towards phase two and establishing public policies alongside educational campaigns.
The new Executive Order, which will be in effect for 21 days, from Friday, August 22 to September 11, restricts people's travel and reduces the occupancy rate of public places to 25%.
Furthermore, it makes the use of masks mandatory and prohibits family and general gatherings. It is crucial to emphasize that the success of these restrictions, imposed by the executive order to control infections, depends on the cooperation of citizens, private businesses, and the government. It will take us a few weeks to see if the measures taken by the executive order had the expected result; decrease and control of infection.
"We have spent months fighting against a virus that changed our reality, which is why continuing to adapt and follow preventative measures is the key to come out unscathed from this emergency," said Lugo Robles.
Don't let your guard down and follow safety measures.