The Pandemic is Out of Control in Puerto Rico
141 deaths due to COVID-19 have been reported in September and we still don't have enough tests to understand the magnitude of the pandemic.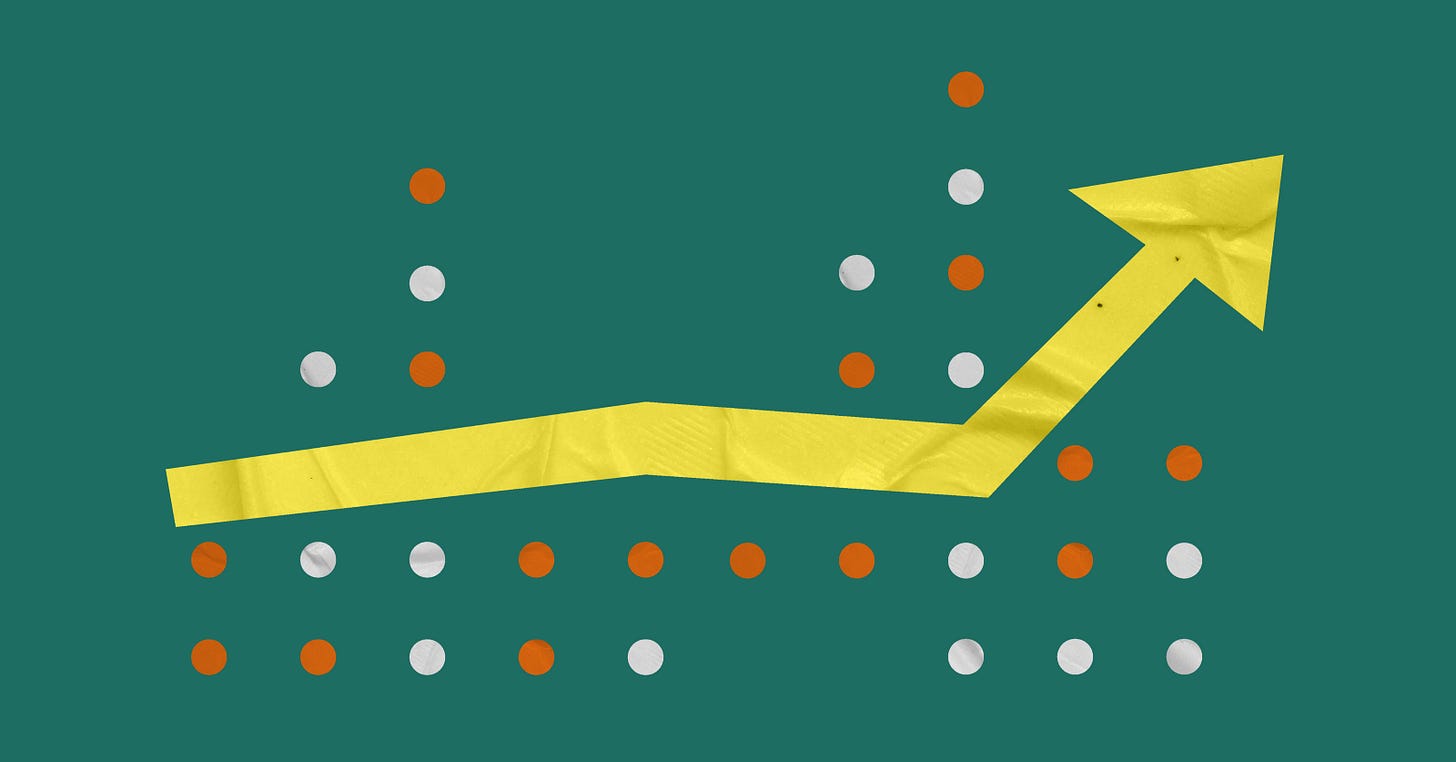 To provide reliable data regarding the COVID-19 virus in Puerto Rico, as well as an expert interpretation of them, 9 Millones established a partnership with Salud Pública en Acción, which was started by epidemiologist Roberta Lugo Robles. This article was translated from its original Spanish version by María Cardona.
As of September 21, the Department of Health data showed a total of 42,476 COVID-19 positive tests in Puerto Rico. Out of these, 20,311 are confirmed cases (via molecular testing) and 22,165 are probable cases (via serological testing).
This is equal to 2,543 additional confirmed cases and 2,554 additional probable cases since our last report on September 13.
This week, four data points regarding the pandemic stand out:
The lack of data continues to be a great limitation in Puerto Rico's response to the pandemic.

September's data shows an average of 7 daily deaths.

Between August 22 and September 11, a total of 138 outbreaks have been reported.

Seven out of every ten outbreaks detected had familial origins (parties, birthdays, wakes, etc.)
COVID-19 in Puerto Rico
The distribution of confirmed cases by gender shows that 53% of confirmed cases were feminine while 47% were masculine with an average age of 42.
The highest number of transmissions detected were in the age group of 20 to 29 with 3,579 cases followed by the 40 to 49 age group with 3,499 cases.
Out of the 2,542 confirmed cases added this week, 51% belong to people between the ages of 20 and 49. The group of 20 to 29-year-olds is the age with the highest transmission rate with 433 new cases.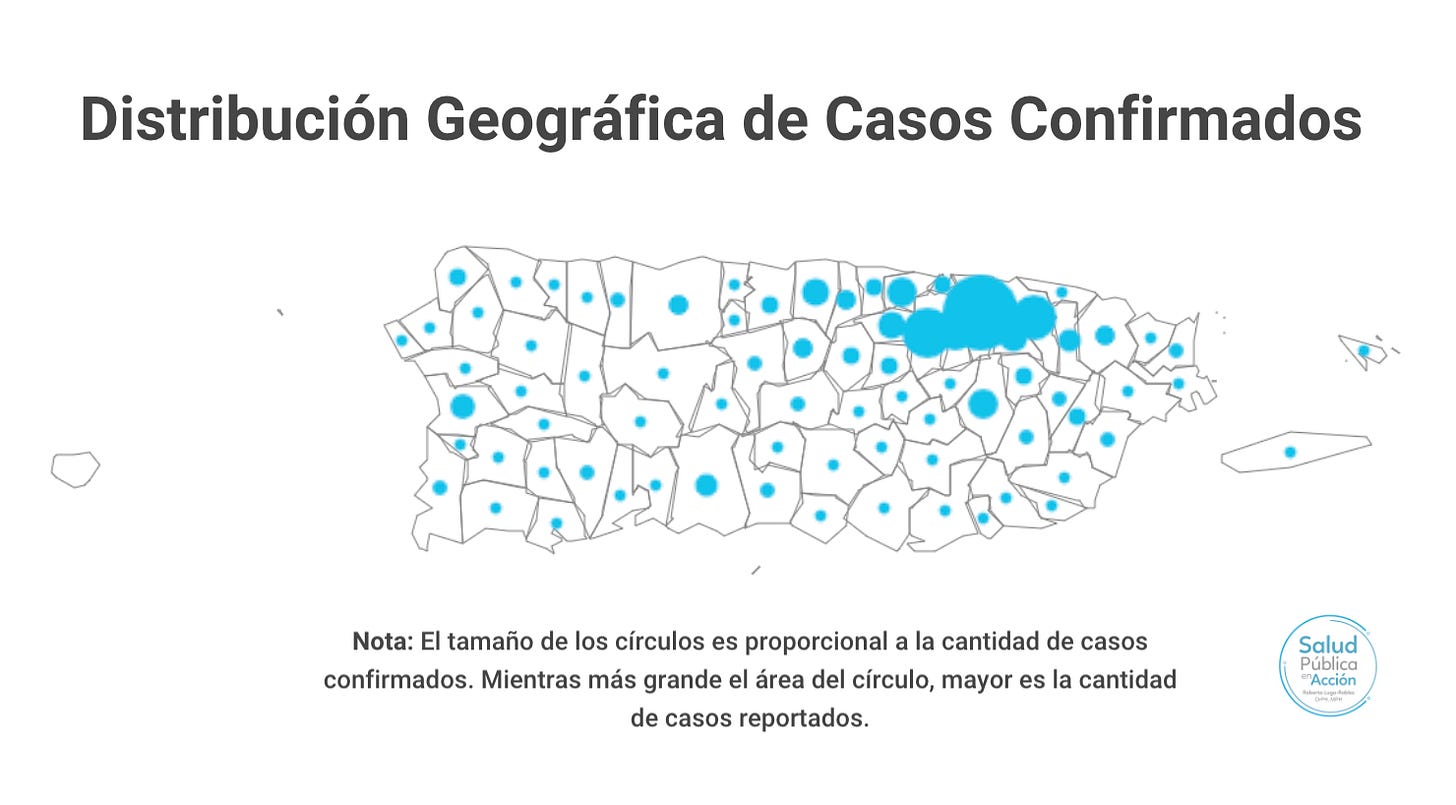 Geographic distribution Source: PR Department of Health
Geographically speaking, the San Juan metro area continues having the highest confirmed case rate with 7,131 (37% of total cases), followed by Bayamón with 4,663 cases (23.1%), and Caguas with 2,414 (10.8%).
Hospitals at 55% of their total capacity
By September 21, data shows an average of 397 daily hospitalizations. Out of these, 62 patients are in intensive care and 40 are on ventilators.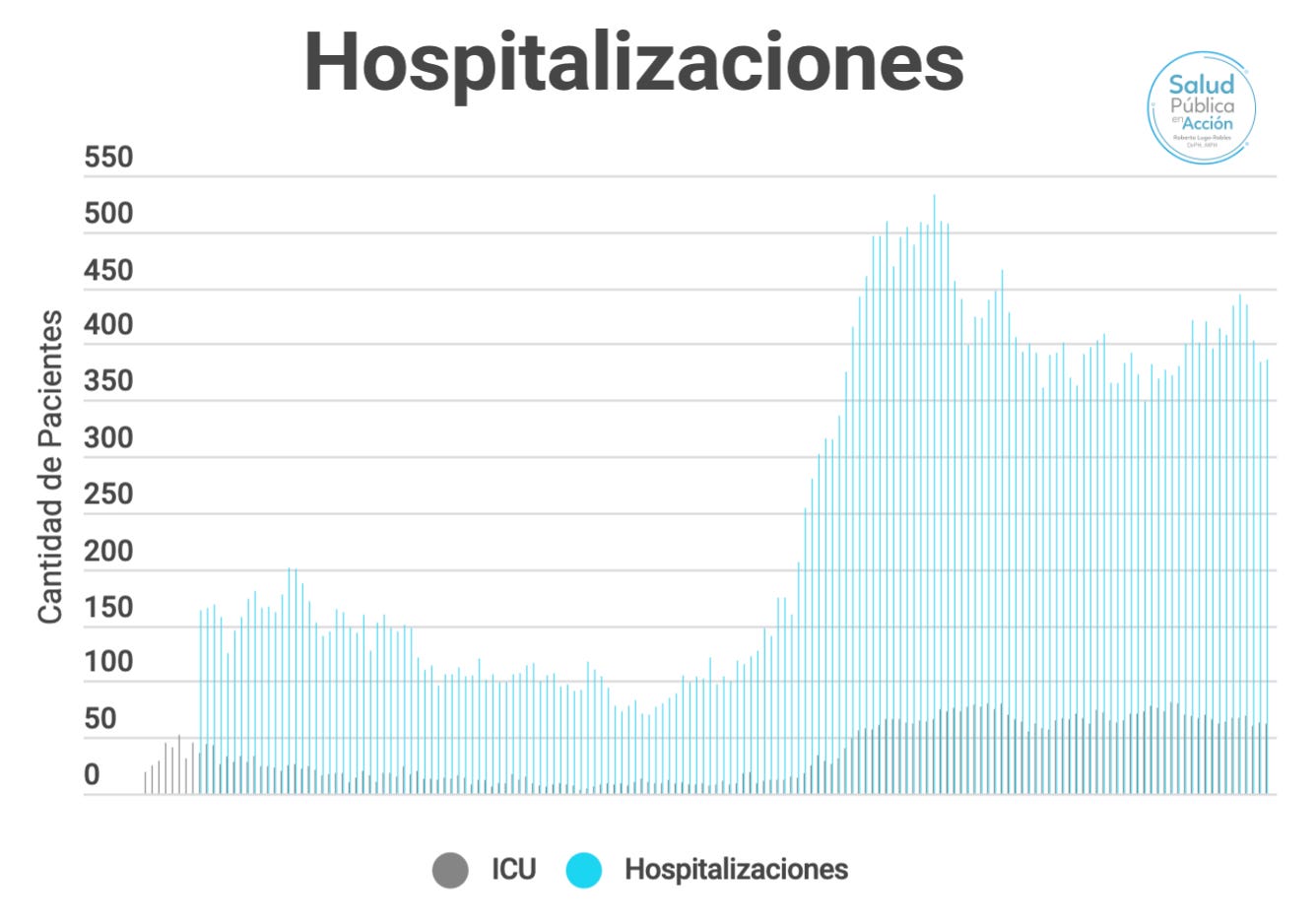 Hospitalizations Source: Monitoreo de COVID-19 en Puerto Rico
During the past two weeks, the number of hospitalizations has fluctuated between 380 and 444 patients.
"Unfortunately, we continue observing a plateau in hospitalizations, with an average of 397 patients hospitalized daily during the month of September. The hospital occupancy is at 55% of its total capacity," said Lugo Robles.
An average of 7 daily deaths
Deaths reported due to complications of the virus rose to a total of 609. Out of these, 439 are confirmed deaths through molecular testing and 170 are probable deaths.
Probable deaths are deaths attributed to COVID-19 through serological testing or positive clinical/epidemiological criteria.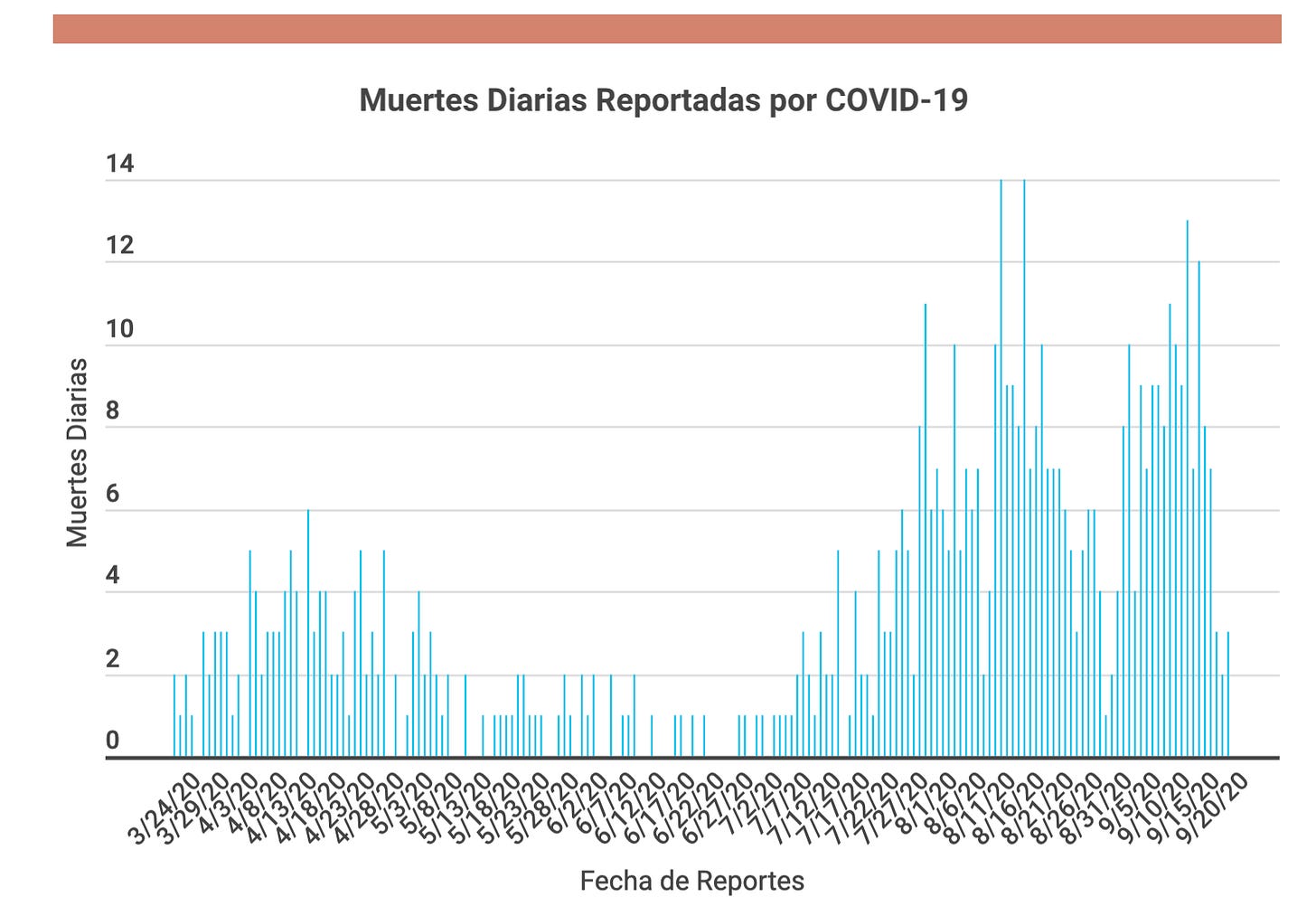 Daily COVID-19 Deaths. Source: Monitoreo de COVID-19 en Puerto Rico
This represents a total of 70 additional deaths since our last report on September 13, representing a rise of 13%.
"September's data shows an average of 7 deaths a day. Up to this point, 141 COVID-19 related deaths have been reported in September," said Lugo Robles.
Department of Health reports 17,834 convalescent cases
The Department of Health's Dashboard data from September 21 offers a figure of 17,834 convalescent cases. This represents 1,935 new convalescent cases since our last data report.
You can read about the latest tracing reports and convalescent cases in our previous data report.
New data regarding contact tracing
The second bulletin by the Municipal System of Case Investigation and Contact Tracing (SMIRC by its Spanish acronym), was published on Monday, September 21.
This report summarizes the findings regarding the outbreaks that have happened between August 22 and September 11. A total of 138 outbreaks were detected, out of which 71 outbreaks are still active.
Compared to the previous report, we can see an increase of 57% to 67% in outbreaks linked to family activities.
Furthermore, we see a new category titled mixed scenario which assumes the outbreak's main scenario was unable to be identified.
Another important fact is that 9% of contacts became active cases. Here we can see the importance of tracing systems and municipal monitoring, which reduce the propagation of the virus by carrying out the relevant interventions.
What does this report tell us?
"We must avoid get-togethers and family celebrations in our homes. Remember, if a family member does not belong to your immediate family nucleus (doesn't live with you), they must carry out ALL preventative measures. It also suggests an active transmission in the community since we can observe the different scenarios associated with the outbreaks," said Lugo Robles.
This week, the Department of Health confirmed that SMIRC will be financed until December 2021.
57 towns have a positivity rate above 10%
According to data from the past 14 days, positivity rates fluctuate between 14.8% and 17.4%. Currently, 57 towns have a positivity rate above 10%, 15 towns between 5% and 9.9%, and 6 towns below 5%.
"If we compare this with our previous report, 12 towns were added to the group with a positivity rate higher than 10%. This can be indicative of a rise in transmission within the community as well as a limit in testing capacities," added Lugo Robles.
Blue: Amount of tests done Yellow: Positivity Rate Source: Monitoreo de COVID-19 en Puerto Rico
We need between 4,000 to 5,000 daily tests to effectively detect transmission rates in Puerto Rico. For this, we need to perform around 28,000 to 35,000 weekly tests.
During the past few weeks, testing capacities totaled 20,000 weekly tests. These numbers indicate that we are below the necessary detection capacity.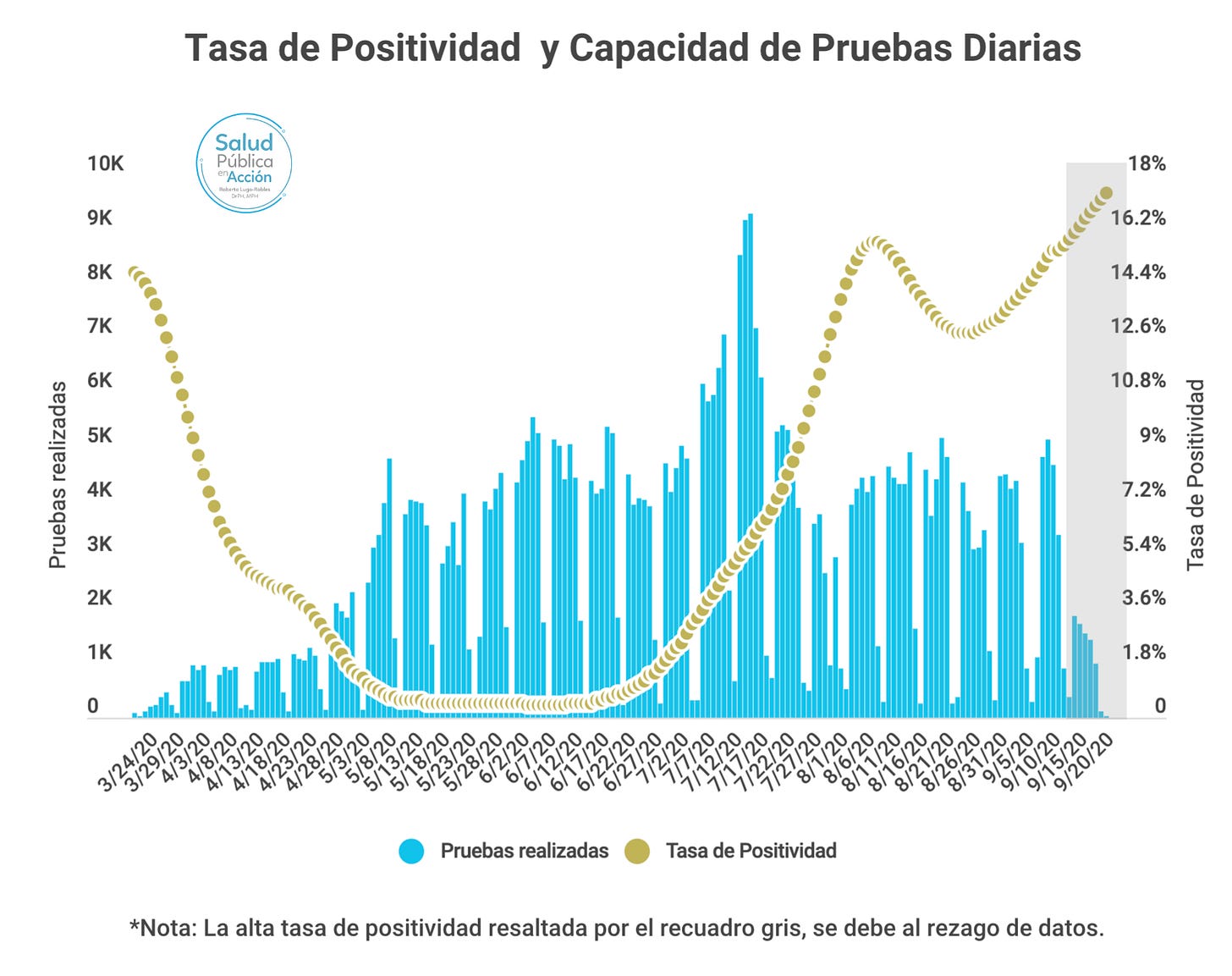 Blue: Amount of tests done Yellow: Positivity Rate. Source: Monitoreo de COVID-19 en Puerto Rico
Various indicators out of control
We are 9 days into the implementation of the new Executive Order and we continue seeing the acceleration of various indicators.
Confirmed cases continue to grow by 222 a day, compared to the 140 daily cases confirmed during the start of September.

Last week, over 2,000 positive cases were confirmed.

The positivity rate can be rounded up to 16%.

Over 70% of towns have a positivity rate higher than 10%.

Hospitalizations average around 398 daily patients and 7 daily deaths.
Puerto Rico has various indicators out of control. Among them, high positivity rates and a large number of transmissions and deaths.
"These indicators along with the new flexible mandates , will heighten heighten the dangerous panorama we are currently in. It's important to view the pandemic as a dynamic event and various indicators must be taken into consideration before making decisions," said Lugo Robles.
Puerto Rico continues experiencing difficulties while trying to manage the pandemic. In these moments, reducing the lack of data reports regarding testing must become a priority.
Currently, the delay in most reports is over 7 days.
How does the data entry delay affect different pandemic response levels in Puerto Rico?
1. It affects the decision-making process — The last Executive Order was based on incomplete data and was made under the assumption that we were observing a decrease in cases. A week after this analysis, it seemed we were not experiencing a decrease after all, but instead it was an observational error caused by the delay in testing reports. This will have a great impact on the new flexibility measures in the country
2. Scientific analyses — Many of the mathematical models and tools used to measure the state of the pandemic are sensitive to the number of tests performed and the number of cases detected. This means that the delay can also affect the application of these models and their effective prediction of the pandemic's behavior. Such is the case of the Puerto Rico Public Health Trust Model. This model was updated with the latest available data and the risk factor rose from mid to high risk.
3. The tracing and monitoring system response — The data entry delay also affects the quickness with which cases, contacts, and therefore, outbreaks can be identified. In some cases, case reports might take over a week, which means that by the time the person is contacted by the tracing and monitoring system or receives their test results, they've probably surpassed their infectious stage and have transmitted it to the people around them.
"For this reason, as a public health measure to control transmission, it is recommended that you keep quarantining and limit your contacts while awaiting results or if you think you've been exposed to the virus," said Lugo Robles.
But, the government also holds some responsibility.
"Authorities need to be responsible during this pandemic in Puerto Rico and fix the limitations and delays of diagnostic tests so they can make informed decisions based on updated data to reduce transmission once and for all," concluded Lugo Robles.
Know the health risks and avoid getting infected.