COVID-19 Deaths Rise as Puerto Rico Reopens
In Puerto Rico, there are nearly six daily deaths, over 380 hospitalizations, and testing is scarce.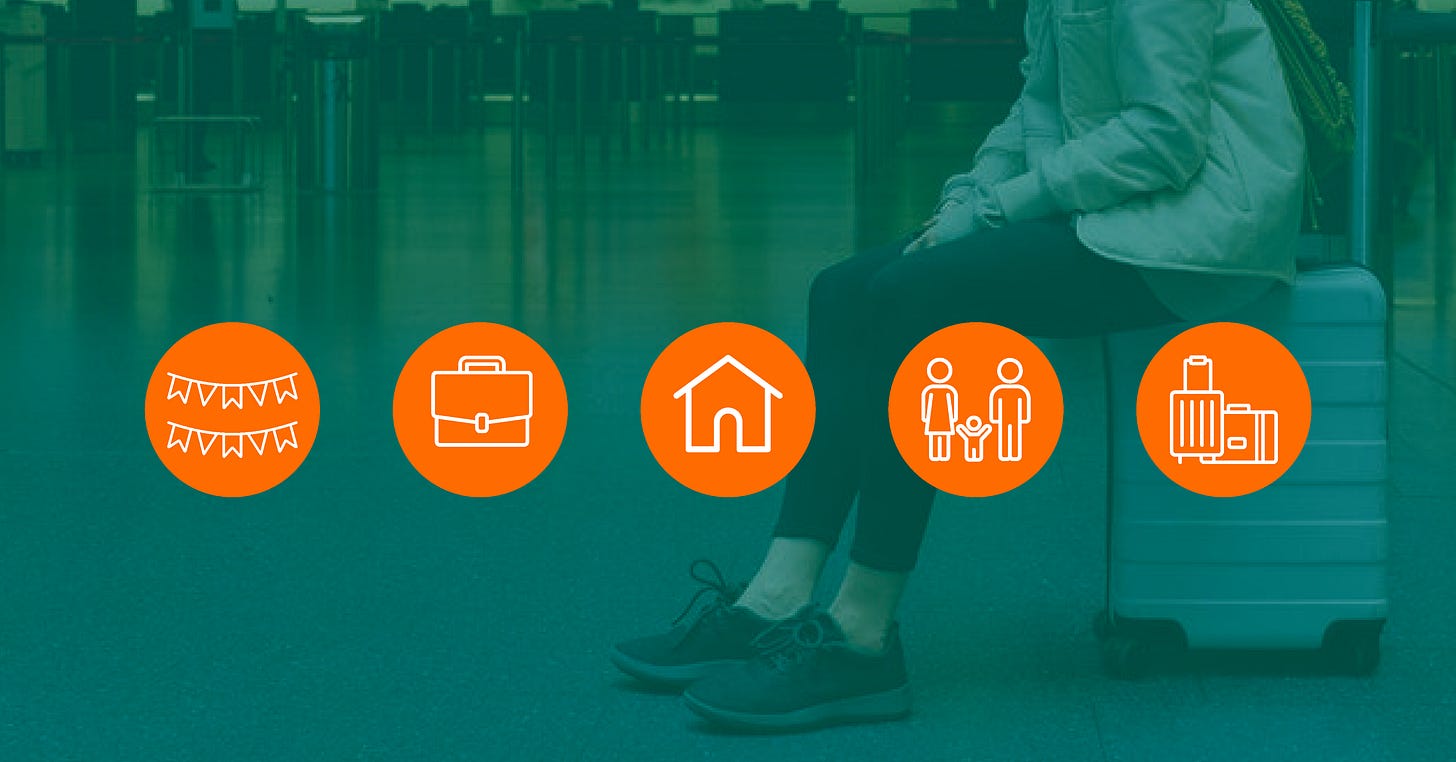 To provide reliable data regarding the COVID-19 virus in Puerto Rico, as well as an expert interpretation of them, 9 Millones established a partnership with the Public Health in Action project, which was started by epidemiologist Roberta Lugo Robles.This article was translated from its original Spanish version by María Cardona.
According to the Department of Health's data, as of Sunday, September 13, there are a total of 37,380 COVID-19 cases in Puerto Rico.
Out of these, 17,769 are positive via molecular testing and 19,611 are positive via serological testing. This equals 1,500 additional confirmed cases and 1,347 probable cases since our last report.
"We are entering a crucial stage in the emergency where public health measures are becoming increasingly flexible, even though we are still experiencing active transmission within the community, with nearly six daily deaths, over 380 hospitalizations, and a limited capacity for testing," said epidemiologist Roberta Lugo Robles.
This week, three epidemiological data points stand out:
During the first weeks of September, the positivity rate fluctuated between 13% and 16%

During August, 120 outbreaks were detected

Six out of every ten detected outbreaks originated from families (parties, birthdays, wakes, etc.)
COVID-19 in Puerto Rico
The distribution of confirmed cases according to gender shows that 53% of cases are female and 47% are male with an average age of 42.
The largest transmission amount detected is in the age group of 20 to 29 with 3,139 cases, followed by the age group of 40 to 49 with 3,073 cases.
Out of the 1,500 confirmed cases added this past week, 50% belong to people between the ages of 20 and 49.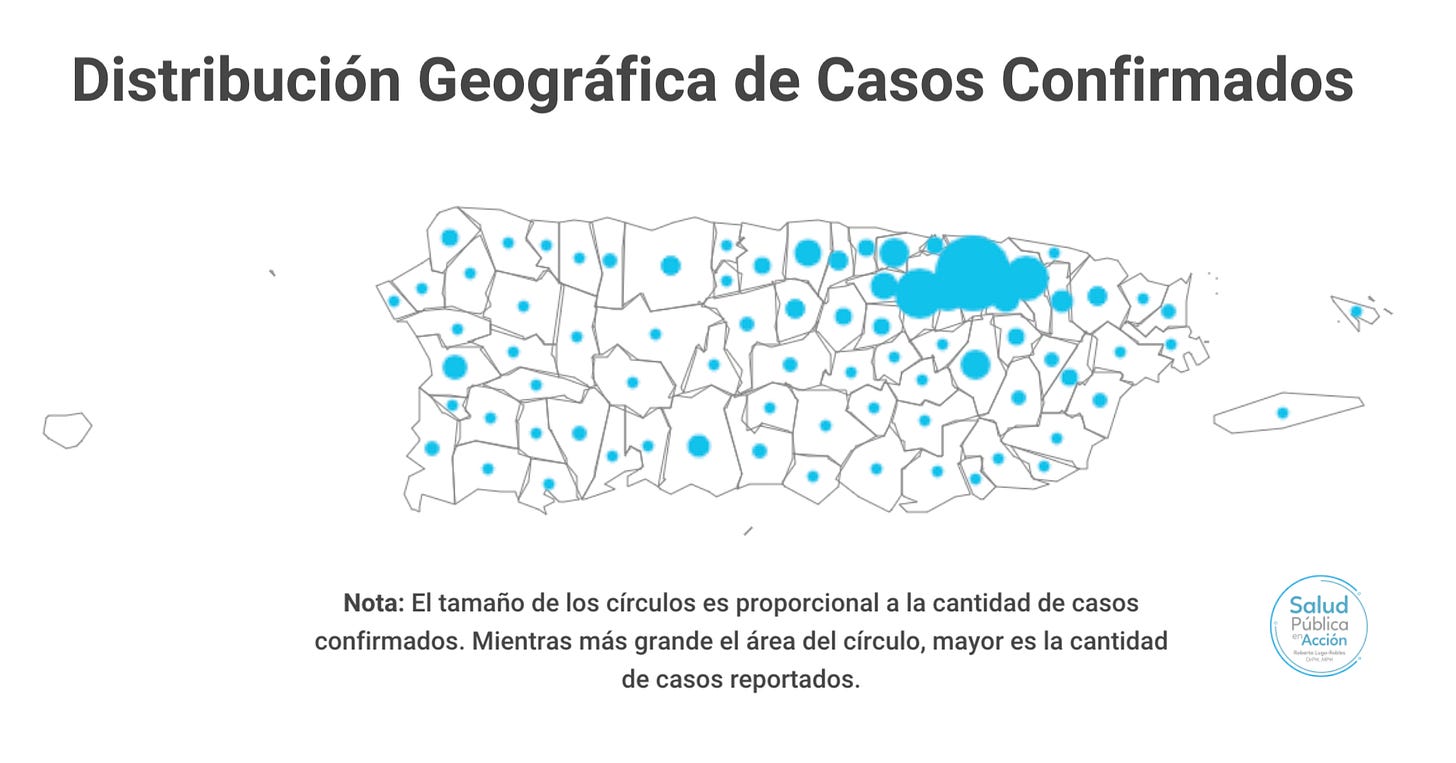 Geographic distribution Source: PR Department of Health (08/30/2020)
Geographically speaking, the San Juan metro area continues having the largest amount of confirmed positive cases with a total of 6,304 (36% of all cases), followed by Bayamón with 4,074 cases (23.1%), and Caguas with 2,009 (10.6%).
Hospitals are still at 56% of their total capacity
As of September 13, the Department of Health's data shows a total of 396 hospitalizations, an increase of 19 additional hospitalizations since the previous week. A total of 66 patients are in intensive care units and 50 are on ventilators.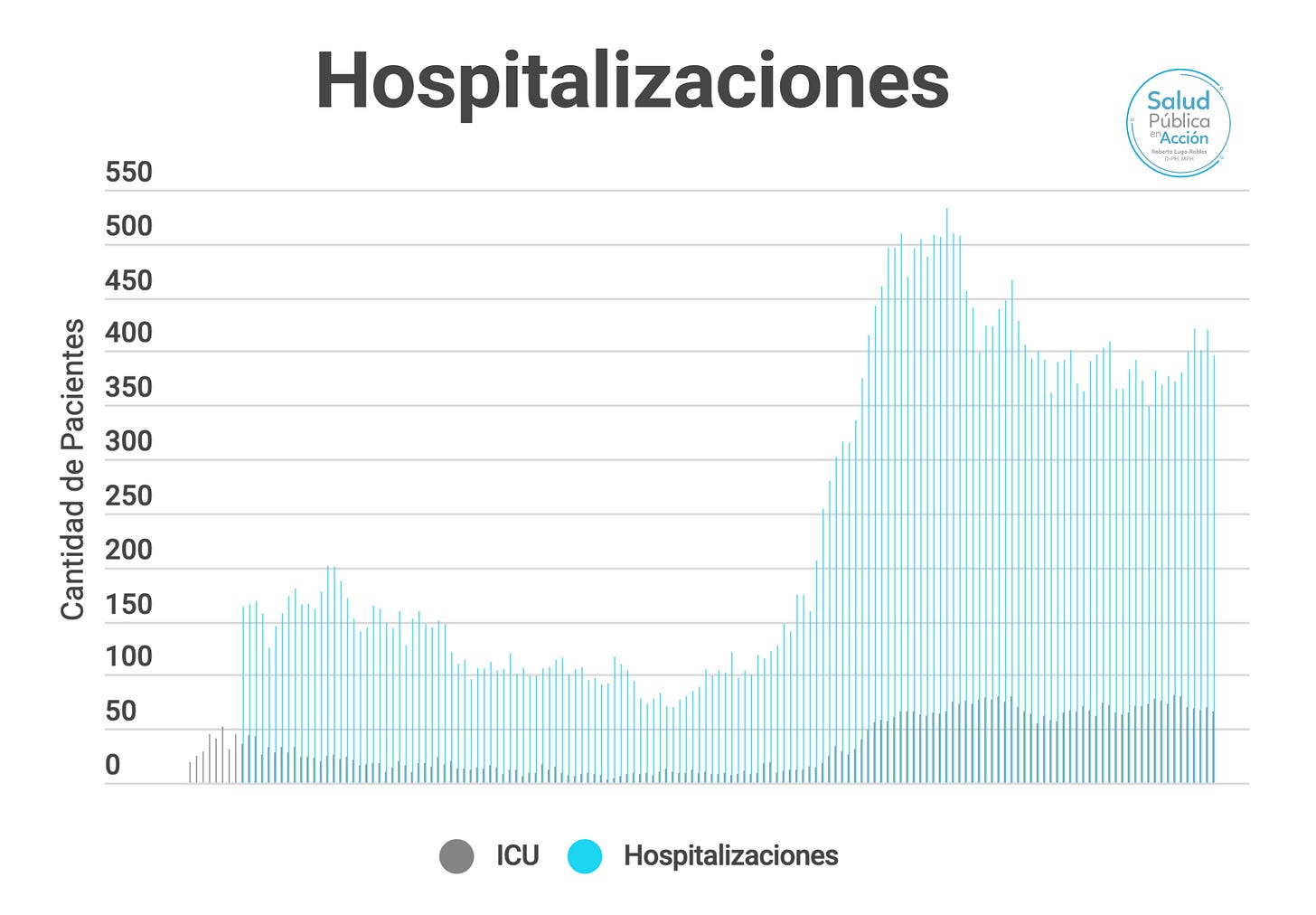 Hospitalizations Source: Monitoreo de COVID-19 en Puerto Rico
In the past two weeks, the number of hospitalizations has fluctuated between 349 and 421 patients. During September, the average for daily hospitalizations has been 386 patients.
"We can observe a plateau in hospitalizations, which average nearly 386 hospitalized patients in September. The hospital's occupancy is still at 56% of its total capacity," said Lugo Robles.
This week, deaths rise by 11%
Deaths reported due to complications from the virus have reached a total of 539. Out of these, 373 deaths were confirmed via molecular testing and 166 were qualified as probable deaths.
Probable deaths are deaths attributed to COVID-19 through positive serological testing or clinical/epidemiological criteria.
This represents a total of 62 additional deaths since our last report, which means an 11% increase.
"September's data shows an average of 6 deaths a day. Up till now, 72 deaths due to COVID-19 have been reported in September," said Lugo Robles.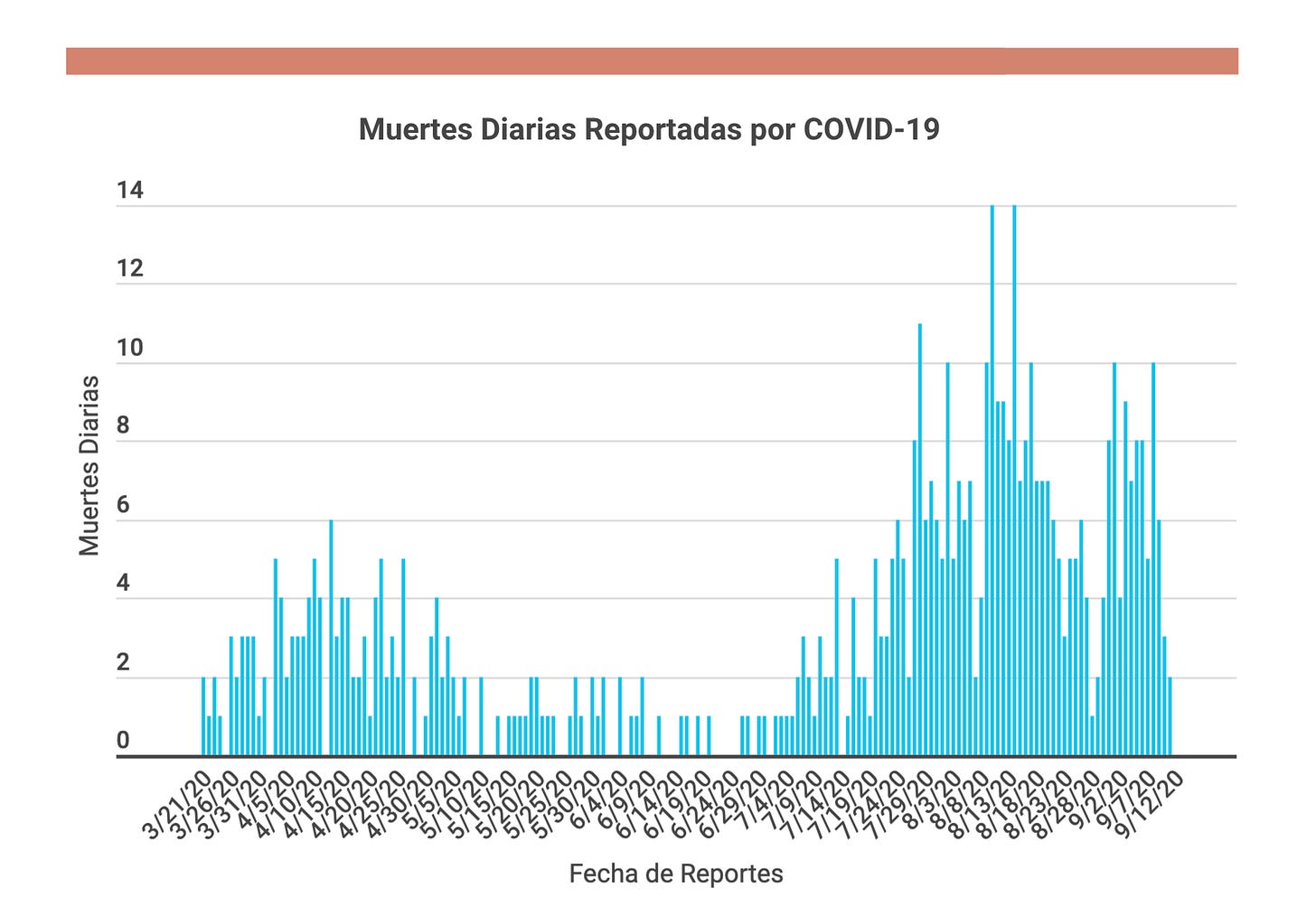 Daily COVID-19 Deaths. Source: Monitoreo de COVID-19 en Puerto Rico
Data regarding contact tracing
According to the Department of Health's report, by August 31, nearly 11,786 contacts had been traced. Out of these, 613 cases are active and 898 cases came back positive for COVID-19 (7.62%). Most cases were identified in Mayagüez (17.3%) followed by Ponce (13.9%), and the San Juan metro area (12.5%).
Reports regarding convalescent cases have yet to be updated by the Department of Health since July 23. However, the Department of Health's Dashboard offers an estimated 15,899 convalescent cases (September 13, 2020). You can read the latest tracing and convalescent reports in our previous data report.
We still need more diagnostic tests
Data from the first two weeks of September show that positivity rates fluctuate between 13% and 16%. Currently, 45 towns have a positivity rate higher than 10%.
Only seven towns have a positivity rate below 5%. These towns are Guayanilla, Guánica, Utuado, Peñuelas, Yauco, Lajas, and San Sebastián. These low positivity levels suggest that transmission might be under control in these towns.
During the past week, positivity has remained over 14%. This marked tendency confirms the scarcity and prioritization of molecular testing. In the last week, an average of 2,000 molecular tests have been performed.
During July, Puerto Rico managed to perform between 5,000 and 8,000 tests daily. Around 4,000 and 5,000 daily tests are needed to effectively detect transmission on the archipelago.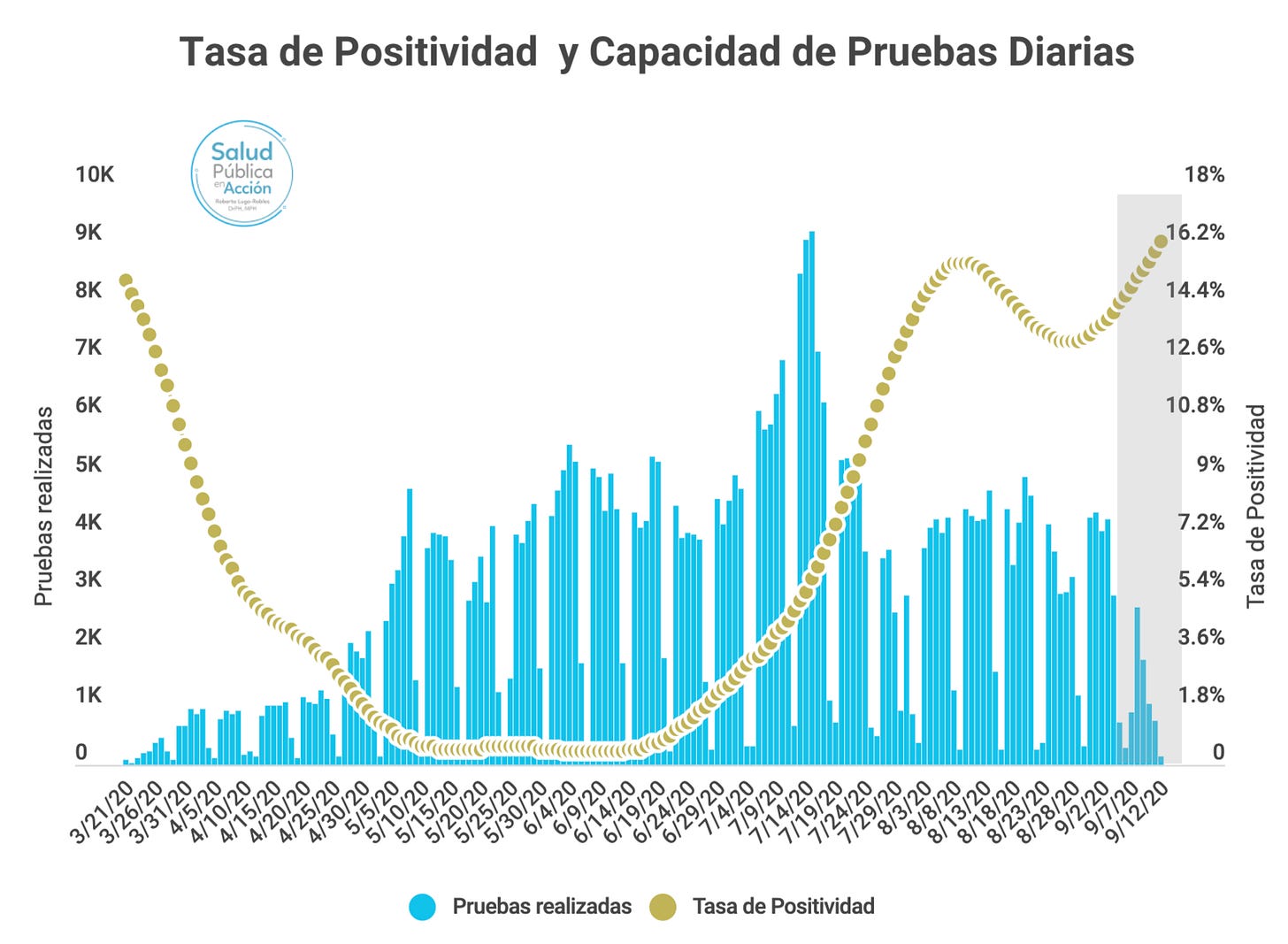 Blue: Amount of tests done Yellow: Positivity Rate Source: Monitoreo de COVID-19 en Puerto Rico
SMICRC published an outbreaks report
The Municipal Case and Contact Tracing Investigation System (or SMIRC by its initials in Spanish) published their first report on September 7.
This report provides an overview of the findings regarding the outbreaks that happened in August. A total of 120 outbreaks were detected in August.
Their data shows that the outbreaks were associated with:
57% Family events (such as birthdays, wakes, etc.)

30% Laboral sector

5% Community transmission (churches, senior centers, etc.)

5% Work to family

3% Travelers (tourists or family members)
What does this tell us?
"We need to avoid crowding together in our homes and in family celebrations. Remember, if the family member is not a part of your immediate nuclear family (does not live in your house), they must carry out ALL preventative measures," explained Lugo Robles.
Furthermore, 67% of cases interviewed by the SMIRC team did not report any close contacts. This is a limitation for the system because it feeds off of tracing and monitoring information provided by the identified case.
The reason for this limitation might be that the positive case might have a limited range of movement. Additionally, it could be because the person does not remember their close contacts and/or the places they visited.
"It is imperative that we continue educating people on how to identify contacts and why this information is key to describing the outbreak or transmission chains," emphasized Lugo Robles.
Lastly, not reporting close contacts could be due to the stigma associated with the illness. This could lead to stereotyping and discrimination.
"For example, it can happen when people associate having COVID-19 with a certain community or family (outbreaks caused by family celebrations)," said Lugo Robles.
It is imperative we take preventative measures
With a new, more flexible Executive Order in effect, it is crucial to continue carrying out preventive measures.
Be prudent and follow preventative measures: use a mask, wash your hands, and practice physical distancing.